Triumph Bonneville Ricks Motorsport Regulator/Rectifier for Air Cooled PN MBI-1004H
Rick's Motorsport Regulator/Rectifier is more reliable than OEM equipment. (This product supercedes T1300819).
Applicable to Triumph models:
00-03 TT600

01-06 America 800

01-08 Bonneville/T100 800

03-05 Speedmaster 800

01-04 T100

07-10 America 900

07-14 Bonneville/T100/SE 900

06-14 Scrambler 900

06-14 Speedmaster 900

05-10 T100

04-12 Thruxton 900
3 to 5 ohms resistance across all stator wires is recommended.
See service manual for installation instructions.
Please note: Due the nature of the product, we unfortunately do not accept returns on bearings, service tools or electrical components. Please be confident about your purchase before ordering. If you have questions, please contact us.
Triumph Bonneville Ricks Motorsport Regulator/Rectifier for Air Cooled PN MBI-1004H
Rick's Motorsport Regulator/Rectifier - This product Supercedes T1300819
More Reliable Than OEM Equipment
3 To 5 Ohms Resistance Across All Stator Wires Is Recommended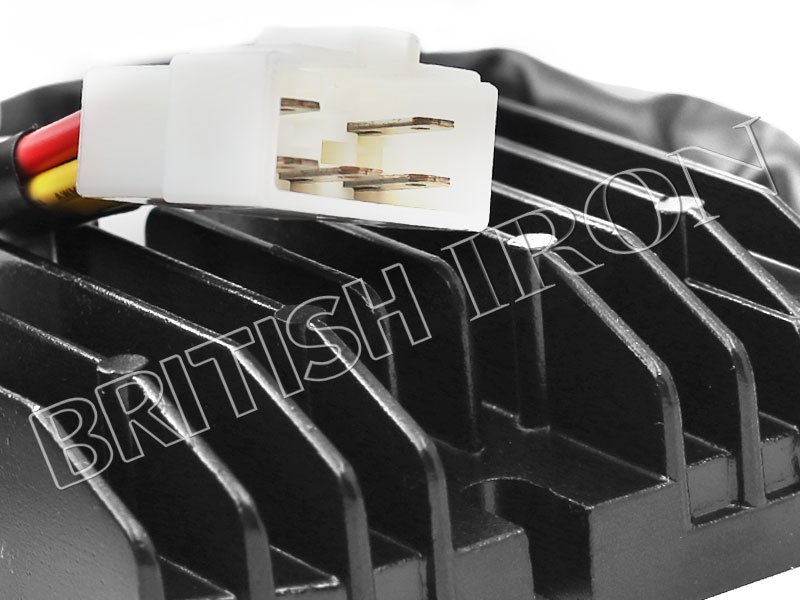 Applicable to: America 865 '07-10, Bonneville America 800 '01-06, Bonneville T100 '03-10, Bonneville 800 '01-06, & Bonneville 865 '07-13
Applicable to: Scrambler 865 '06-14, Speedmaster 800 '03-05, & Speedmaster 865 '06-12
Applicable to: Thruxton 900 04-12 and TT600 '00-03