Triumph Bonneville Universal 50A Regulator/Recitifier for Liquid Cooled (1) PN MBI-208724
Your regulator/rectifier turns 3 phase AC into 14V DC.
Regulator/Rectifier for many models of Triumph motorcycles from 2009-present.
17-20 Bonneville

17-20 Bobber

18-20 Speedmaster

17-20 T100/T100 Black

16-20 T120/T120 Black

19-20 Rocket III

19-20 Scrambler 1200

94-18 Speed Triple (461332-735437)

11-17 Speed Triple R

18-20 Speed Triple RS (after 867601)

94-17 Speed Triple RS

18-20 Speed Triple S

17-20 Street Cup

17-20 Street Scrambler

9-20 Street Triple R

07-18 Street Triple Standard

16-17 Street Twin

17-18 Thruxton 1200/Thruxton R 1200

17-20 Thruxton RS

09-18 Thunderbird models

11-17 Tiger 800 models
Highest quality, direct replacement regulator/rectifiers for your powersports applications.
Protect the integrity of your charging system with a properly functioning regulator/rectifier. Genuine O.E.M. replacements.
Follow the instructions in the service manual.
Please note: Due the nature of the product, we unfortunately do not accept returns on bearings, service tools or electrical components. Please be confident about your purchase before ordering. If you have questions, please contact us.

Triumph Bonneville Universal 50A Regulator/Recitifier for Liquid Cooled (1) PN MBI-208724
Regulator/Rectifier Turns 3 Phase AC Into 14V DC
Fitment Appropriate for Many Models of Triumph Motorcycles from 2009-Present
Highest Quality, Direct Replacement Regulator/Rectifiers for Your Powersports Applications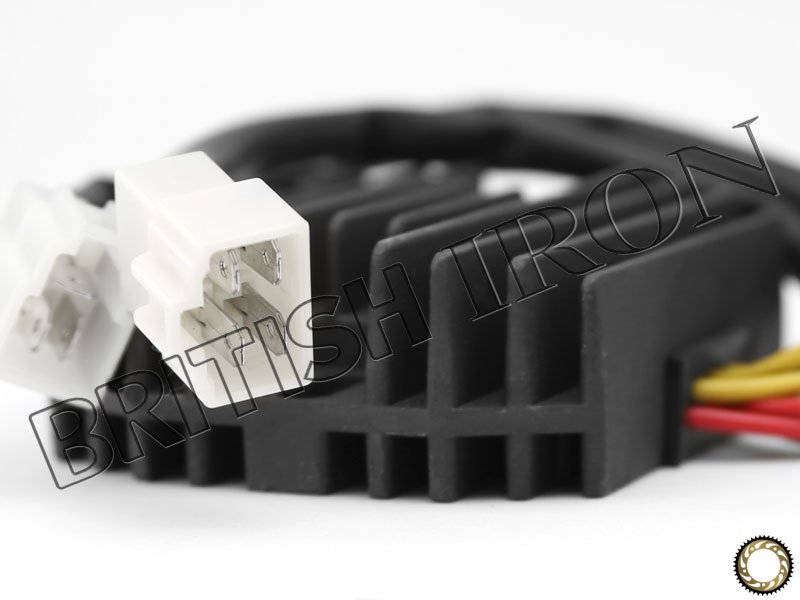 Protect The Integrity of Your Charging System with a Properly Functioning Regulator/Rectifier
Genuine O.E.M. Replacements
Follow the Instructions in the Service Manual