Triumph Models K&L Valve Shim Kit 25mm PN VSK25
25mm valve adjustment shim kit.
Used to make shim over bucket valve adjustments without removing the camshafts. Valve adjustment shims necessary for a good tune up.
Our shim removal tool's rounded legs give you more room for shim removal than the OEM tool.
Removes and reinstalls 25mm shims in liquid cooled 3 & 4 cylinder bikes
Fitment for:
96-01 Adventurer

02-20 America

08-20 Bonneville

01-20 Bonneville

02-20 T100

93-06 Daytona 1200/900/Super III

97-06 Daytona 955i/T595

92-93 Daytona 1000/750

98-01 Legend TT

06-18 Rocket III

06-20 Scrambler

94-96 Speed Triple 900/955i (up to 141871)

94-18 Speed Triple

02-20 Speedmaster

93-98 Sprint

04-20 Thruxton 900

09-18 Thunderbird 1600/1700

98-03 Thunderbird Sport

95-04 Thunderbird

93-98 Tiger 900 (up to 124105)

01-07 Tiger 955i

91-98 Trident

91-04 Trophy
Triumph Models K&L Valve Shim Kit 25mm PN VSK25
Used to make shim over bucket valve adjustments without removing the camshafts
Our shim removal tool's rounded legs give you more room for shim removal than the OEM tool
Fitment for: 96-01 Adventurer, 02-20 America, 08-20 Bonneville, 01-20 Bonneville, 02-20 T100, 93-06 Daytona 1200/900/Super III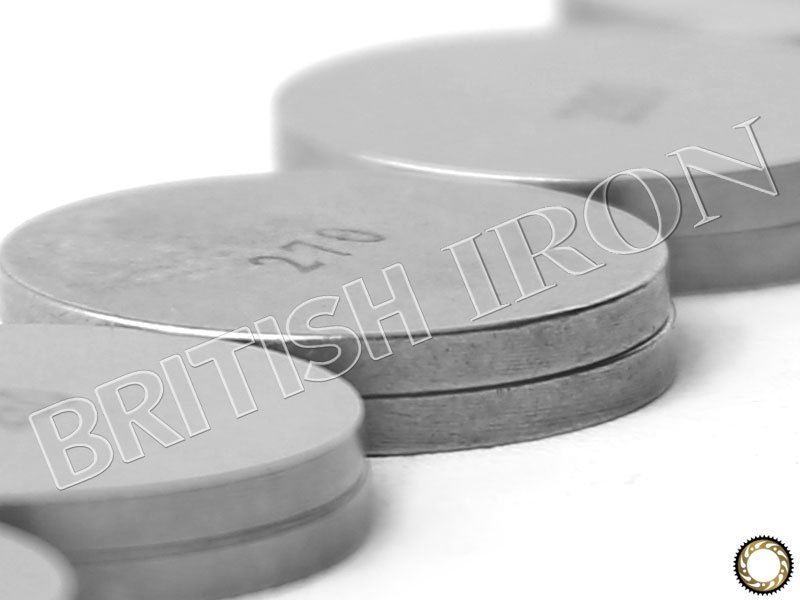 Fitment for: 97-06 Daytona 955i/T595, 92-93 Daytona 1000/750, 98-01 Legend TT, 06-18 Rocket III, 06-20 Scrambler, 94-96 Speed Triple 900/955i (up to 141871), 94-18 Speed Triple, 02-20 Speedmaster
Fitment for: 93-98 Sprint, 04-20 Thruxton 900, 09-18 Thunderbird 1600/1700, 98-03 Thunderbird Sport, 95-04 Thunderbird, 93-98 Tiger 900 (up to 124105), 01-07 Tiger 955i, 91-98 Trident, 91-04 Trophy