Triumph High Quality Pro Spin-On Oil Filter (1) PN MBI-PF204B
High quality spin-on oil filter that exceeds OEM standards. This Pro Filter has up to 20% more life than other filters along with a silicone anti-drain back valve that allows faster oil distribution on start up.
Spin-on oil filter fits most 2004-2017 Triumph models including: Bonneville, Daytona, Rocket III, Scrambler Speed Four, Speed Triple, Speedmaster, Sprint, Street Triple, Thruxton, Tiger, America, Trophy.
It can be removed with a 17mm wrench or socket, which is easier than using an oil filter wrench.
Replaces the following OEM:
05 Speed Four 600, 04-05 Daytona 650

06-16 Daytona 675 R

08-19 Street Triple 675

16-20 Street Triple 765

04-17 America (all models)

07-13 Bonneville 865/T100

07-17 Scrambler 865

07-14 Speedmaster 865

07-15 Thruxton 865

16-20 T100

16-20 Street 900

16-19 Bonneville T120

16-19 Thruxton 1200

09-18 Thunderbird 1600/1700

04-20 Rocket III

17-19 Bonneville Bobber
Check your parts book for fitment.

Triumph High Quality Pro Spin-On Oil Filter (1) PN MBI-PF204B
High Quality Spin-on Oil Filter that Exceeds OEM Standards
Fits Most: Bonneville, Daytona, Rocket III, Scrambler Speed Four, Speed Triple
Fits Most: Speedmaster, Sprint, Street Triple, Thruxton, Tiger, America, Trophy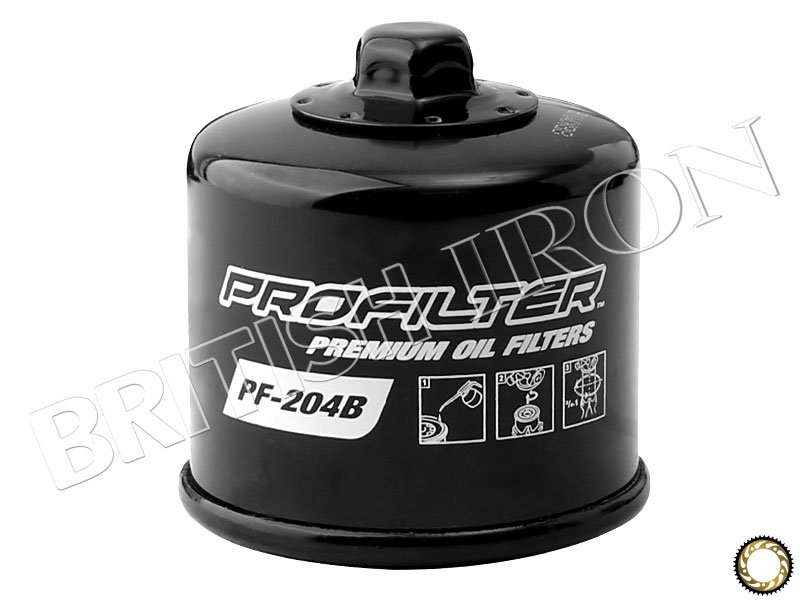 Up to 20% More Life than Other Filters
Silicone Anti-Drain Back Valve That Allows Faster Oil Distribution on Start Up
Can Be Removed With a 17mm Wrench or Socket