Triumph Bonneville 900cc EBC Rear Brake Pads PN MBI-FA214/2
Organic brake pads provide excellent brake response with medium lifetime.
Aramid fiber organic brake pad (96.5x42x9.5mm & 77.5x42x8mm).
Appropriate fitment for:

16-21 Bonneville 900cc Black/T100

03-07 Speedmaster (790cc carbs)

08-10 Speedmaster 865 EFI

06-19 America 865cc cast wheel

14-19 America (Cast wheel/wind shield)

06-08 Bonneville 865cc/ BBlack

09-15 Bonneville cast wheel

09-12 Bonneville SE cast wheel

10-15 Bonneville T100 spoke wheel

14-15 Bonneville T100 Black spoke wheel

12 T100 Steve McQueen SE

15 T100 Spirit SE

15 T100 Newchurch

15 T214

09-10 Speedmaster (865/EFI) Eng# 392060 to 46049 (6 bolt fr disc)

11-19 Speedmaster (865/EFI) Eng# 4609050 up (5 bolt fr disc/5 spoke cast wh)

06-09 Scrambler (carbs)

10-15 Scrambler 865 EFI

Longest lasting brake pads available, resulting in longest rotor service life.
Follow the instruction in chapter 10 of the service manual

Triumph Bonneville 900cc EBC Rear Brake Pads PN MBI-FA214/2
Organic Brake Pads Provide Excellent Brake Response with Medium Lifetime
Aramid Fiber Organic Brake Pad (96.5x42x9.5mm & 77.5x42x8mm)
Appropriate Fitment For: 16-21 Bonneville 900cc Black/T100, 03-07 Speedmaster (790cc carbs), 08-10 Speedmaster 865 EFI, 06-19 America 865cc cast wheel, 14-19 America (Cast wheel/wind shield)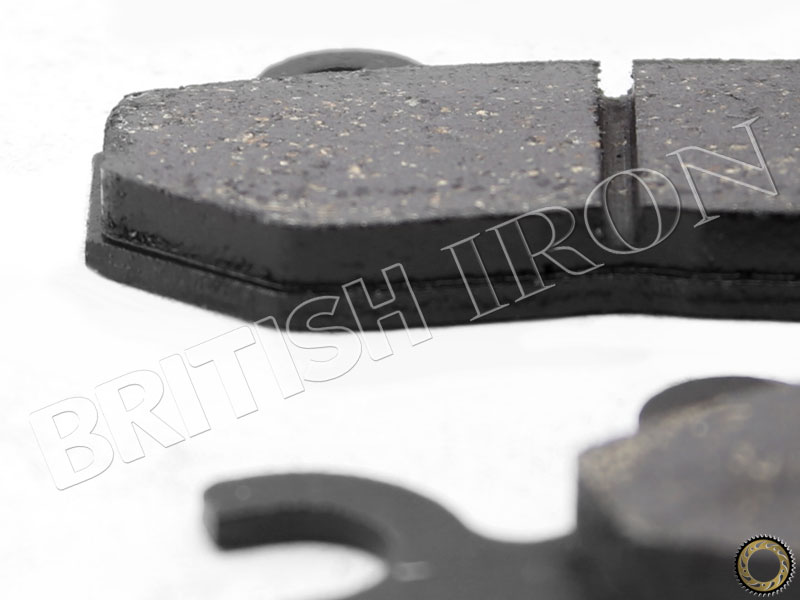 Appropriate Fitment For: 06-08 Bonneville 865cc/ BBlack, 09-15 Bonneville cast wheel, 09-12 Bonneville SE cast wheel, 10-15 Bonneville T100 spoke wheel, 14-15 Bonneville T100 Black spoke wheel, 12 T100 Steve McQueen SE, 15 T100 Spirit SE, 15 T100 Newchurch
Appropriate Fitment For: 15 T214, 09-10 Speedmaster (865/EFI) Eng# 392060 to 46049 (6 bolt fr disc), 11-19 Speedmaster (865/EFI) Eng# 4609050 up (5 bolt fr disc/5 spoke cast wh), 06-09 Scrambler (carbs), 10-15 Scrambler 865 EFI
Longest Lasting Brake Pads Available, Resulting in Longest Rotor Service Life