The portable center jack is useful for the mechanic servicing virtually any model motorcycle where the wheels must be lifted off the ground or stationary flat deck lift. K&L products are a staple in motorcycle shops and dealerships worldwide.
The MC450 scissor jack is easy to operate and features heavy-duty construction. Capable of lifting virtually any size motorcycle with its 1100 lb limit, this center jack is supplied with an optional rubber pad to protect the finish and help prevent migration of the motorcycle when in use. Ideal for lifting the rear wheel for engine rotation, fork service, chain replacement and wheel removal.
The center jack is usually situated under the motorcycle in a transverse position that allows the platform to lift on the lower frame rails. The jack can be used to lift the motorcycle level, with both wheels off the floor, or can be used for front or rear wheel removal on a lift when strapped down at various locations.
Once located in the desired location under the motorcycle, a 1″ 6-point socket on a 1/2″ drive ratchet makes easy work of raising and lowering the jack. Air impact tools are not recommended for use in raising and lowering the center jack.

Please note: Due the nature of the product, we unfortunately do not accept returns on bearings, service tools or electrical components. Please be confident about your purchase before ordering. If you have questions, please contact us.
K&L Center Jack PN# TBS-37-9847
K&L products are a staple in motorcycle shops and dealerships worldwide
The MC450 scissor jack is easy to operate and features heavy-duty construction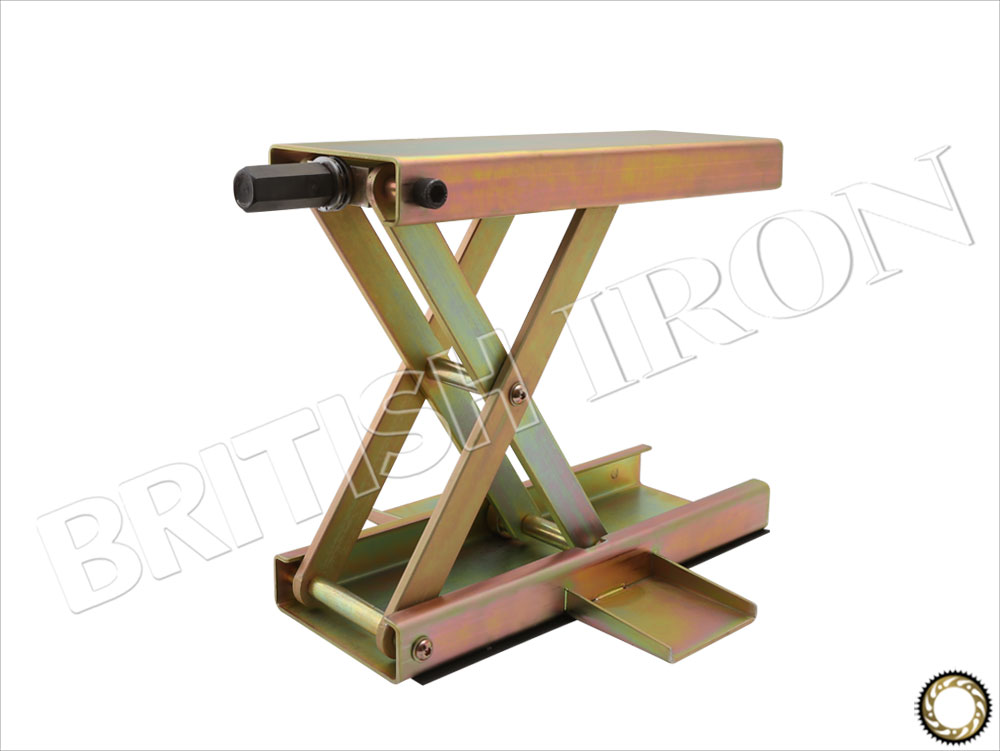 Ideal for lifting the rear wheel for engine rotation, fork service, chain replacement and wheel removal
The jack can be used to lift the motorcycle level, with both wheels off the floor, or can be used for front or rear wheel removal on a lift when strapped down at various locations
Once located in the desired location under the motorcycle, a 1" 6-point socket on a 1/2" drive ratchet makes easy work of raising and lowering the jack