Triumph Thruxton 900 13.6″ Rear Progressive Suspension Shocks (2) PN MBI-490-1011
Performance series shocks provide a smoother ride, hand adjustable preload, adjustable rebound dampening, lighter weight aluminum body, and have a bumper to cushion bottoming out.
Appropriate fitment for:
04-16 Thruxton 900

06-16 Scrambler
Progressive Suspension's 13.6" long 490 Sport Series Shocks feature high pressure gas monotube and can be mounted with bushing or bearings.
Follow the rear shock replacement instructions in the rear suspension section of the service manual.

Triumph Thruxton 900 13.6″ Rear Progressive Suspension Shocks (2) PN MBI-490-1011
Progressive Suspension's 13.6" Long 490 Sport Series Shocks Feature High Pressure Gas Monotube and Can Be Mounted with Bushing or Bearings
Appropriate Fitment for Triumph Thruxton 900 From '04-16
Performance Series Shock Features Hand Adjustable Preload and Adjustable Rebound Dampening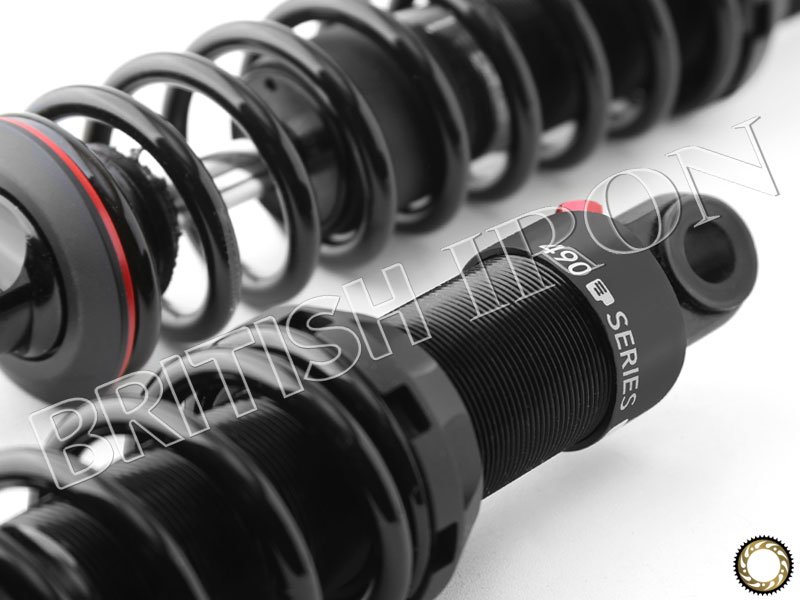 Lighter Weight Aluminum Body Improves Handling, Gives A Smoother Ride, and Goes Over Potholes and Bumps Much Smoother
Follow the Rear Shock Replacement Instructions in the Rear Suspension Section Of The Service Manual