Triumph Bonneville Legend National Cycle Windscreen (1) PN MBI-N2520
This sleek stylish windscreen from National Cycle offers excellent wind protection, making the bike more suitable for a long ride.
High impact acrylic, easy to install windscreen for Bonneville 800, 900 and T100 '01-15, Legend TT '99-02, Thruxton '04-15, T-bird '95-03, and T-bird Sport '99-04.
Uses aluminum uprights to attach to the headlight mounting points. Installation instructions included.
Can also fit the following:
BMW:

R1100R '96-00 and R850R '96-02

Ducati:

Monster 1000 S '02-05, Monster 620 '95-06, M600 '95-06, M750 '95-02, M800 '02-03, M900 '93-02

Honda:

CBF500 2004, CB1300 '03-04, CB600FS Hornet '98-03, CB750SC Nighthawk '91-03

Kawasaki:

EL252 Eliminator '97-02, W650 '99-02, W800 '11-13, ZR-7 '00-03, ZRX1200R '03-04, ZR1100 Zephyr '93-97, ZR550 Zephyr '93-99, ZR750 Zephyr '90-99

Moto Guzzi:

California EV 1100 '97-03, California Stone 1100 '01-03

Suzuki:

GSF1200SK Bandit, GSF600 Bandit S, GSF600S Bandit '97-03, GSX1400 2003, GSX750 '98-02, GS500E '90-02, SV1000 '03-04, SV650 '99-02

Yamaha:

XJR1300 '00-14, XJ600N '97-02
Triumph Bonneville Legend National Cycle Windscreen (1) PN MBI-N2520
Sleek Stylish Windscreen from National Cycle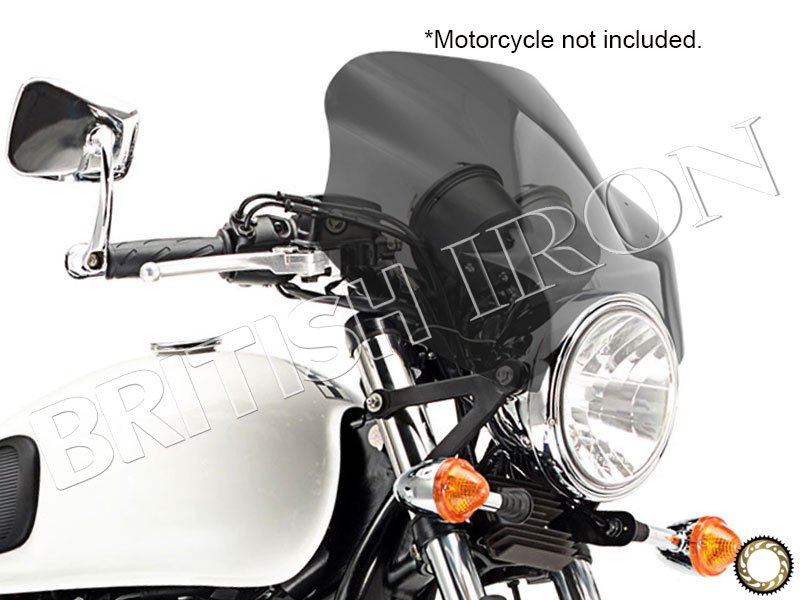 Suitable for: Bonneville 800, 900 and T100 '01-15, Legend TT '99-02, Thruxton '04-15, T-Bird '95-03, and T-Bird Sport '99-04
Uses Aluminum Uprights to Attach to the Headlight Mounting Points
Installation Instructions Included