Triumph Bonneville 865/900cc EBC Front Brake Pads PN MBI-FA196
Organic brake pads provide excellent brake response with medium lifetime.
Aramid fiber organic brake pad (101x35x9mm)
Appropriate fitment for:

06-19 America 865cc cast wheel

14-19 America (Cast wheel/wind shield

06-08 Bonneville 865cc/ Black

09-15 Bonneville cast wheel

09-12 Bonneville SE cast wheel

10-15 Bonneville T100 spoke wheel

14-15 Bonneville T100 Black spoke wheel

12 T100 Steve McQueen SE

15 T100 Spirit SE

15 T100 Newchurch, 15 T214

09-10 Speedmaster (865/EFI) Eng# 392060 to 46049 (6 bolt fr disc)

11-19 Speedmaster (865/EFI) Eng# 4609050 up (5 bolt fr disc/5 spoke cast wh)

96-01 Adventurer, 98-99 Tiger 865cc, 06-09 Scrambler (carbs)

10-15 Scrambler 865 EFI

Longest lasting brake pads available, resulting in longest rotor service life.
Follow the instruction in chapter 10 of the service manual.

Triumph Bonneville 865/900cc EBC Front Brake Pads PN MBI-FA196
Organic Brake Pads Provide Excellent Brake Response with Medium Lifetime
Aramid Fiber Organic Brake Pad (96.5x42x7.5mm & 77.5x42x8mm)
Appropriate fitment for: 06-19 America 865cc cast wheel, 14-19 America (Cast wheel/wind shield), 06-08 Bonneville 865cc/ BBlack, 09-15 Bonneville cast wheel, 09-12 Bonneville SE cast wheel, 10-15 Bonneville T100 spoke wheel, 14-15 Bonneville T100 Black spoke wheel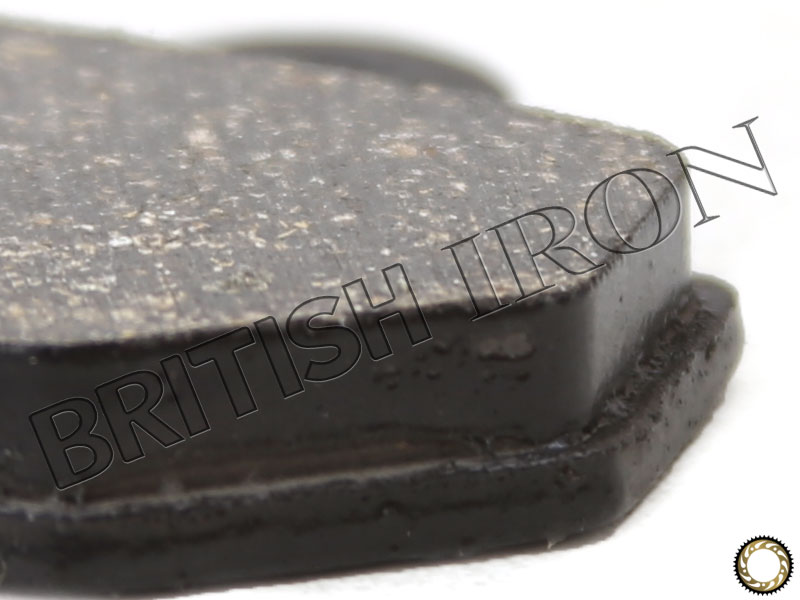 Appropriate fitment for: 12 T100 Steve McQueen SE, 15 T100 Spirit SE, 15 T100 Newchurch, 15 T214, 09-10 Speedmaster (865/EFI) Eng# 392060 to 46049 (6 bolt fr disc),
Appropriate fitment for: 11-19 Speedmaster (865/EFI) Eng# 4609050 up (5 bolt fr disc/5 spoke cast wh), 96-01 Adventurer, 98-99 Tiger 865cc, 06-09 Scrambler (carbs), 10-15 Scrambler 865 EFI
Longest Lasting Brake Pads Available, Resulting in Longest Rotor Service Life