Triumph Bonneville Scrambler BikeMaster High Flow Gauze Air Filter (1) PN MBI-TB003
High flow precision-woven air filter for Triumph Bonneville, Thruxton, and Scrambler models that use a cylinder-shaped air filter.
The "triple-layer protection" contains two epoxy-coated layers of strong steel mesh and one layer of non-woven material.
This filter is corrosion-resistant, washable and reusable and environmentally friendly. It will last the lifetime of your vehicle with proper care.
With 304 stainless steel the outer-screen construction offers triple-layer protection and increased air flow over stock filter, which may require re-jetting or re-mapping. 
Gauze air filter are the least restrictive air filter available. 
Applicable to the following models:
01-05 Bonneville 800

02-04 Bonneville T100

06-16 Bonneville 865

05-16 Bonneville T100

06-16 Scrambler 865

04-15 Thruxton 865
Note: Carbureted models will require re-jetting. EFI models may need re-mapping.  We cannot ship these to CA addresses.

Triumph Bonneville Scrambler BikeMaster High Flow Gauze Air Filter (1) PN MBI-TB003
High Flow Precision-Woven
Triple-Layer Protection: Two Epoxy-Coated Layers of Strong Steel Mesh and One Layer of Non-Woven Material
Increased Air Flow Over Stock Filter (May Require Re-Jetting)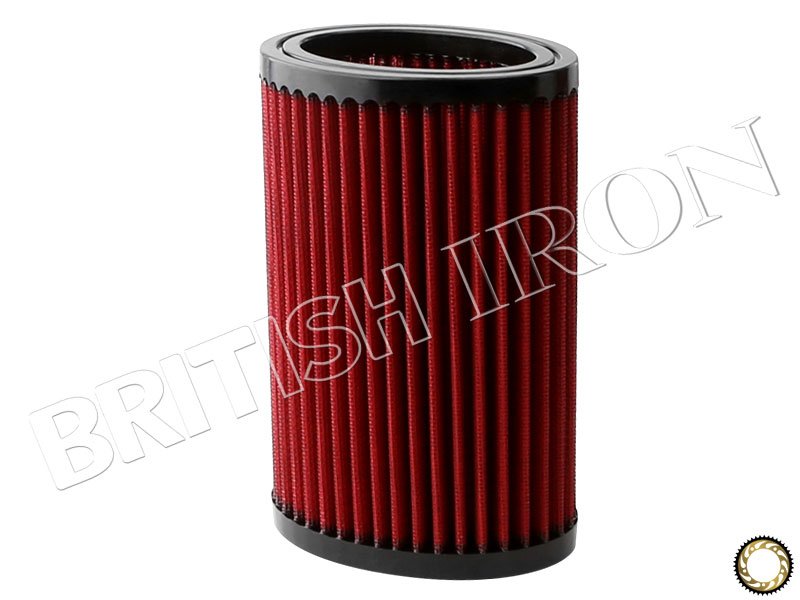 Applicable to Triumph Bonneville, Thruxton, and Scrambler Models that Use a Cylinder-Shaped Air Filter
Washable & Reusable - Environmentally Friendly