Triumph 865cc 900 Hinckley Exhaust Adapters Retro Silencers (2) PN 8003255
Give your 865 or 900 Hinckley Triumph twin a vintage vibe using these exhaust adapters to make the modern Triumph look like its namesake. You can use almost any silencer as these adapters go from 1.5" I.D. to 1.5" O.D. The adapter's angled geometry allows the silencers to be straightened from the original upsweep.
These adapters are needed for our universal silencers, so they can make the curve to the head pipe on Hinckley made Bonnevilles.
01-07 Bonneville

02-08 T100

04-08 Thruxton
This item is not available for sale in nor shipment to California. The California Air Resource Board (CARB) prohibits the sale of this item per California Code of Regulations, Title 13 § 2220 et seq., California Code of Regulations, Title 13 § 2470 et seq., California Vehicle Code §§ 27156 and 38391, and California Health & Safety Code § 43151 et seq. CARB Enforcement Advisory
Triumph 865cc 900 Hinckley Exhaust Adapters Retro Silencers (2) PN 8003255
Angled Geometry Allows the Silencers to be Straightened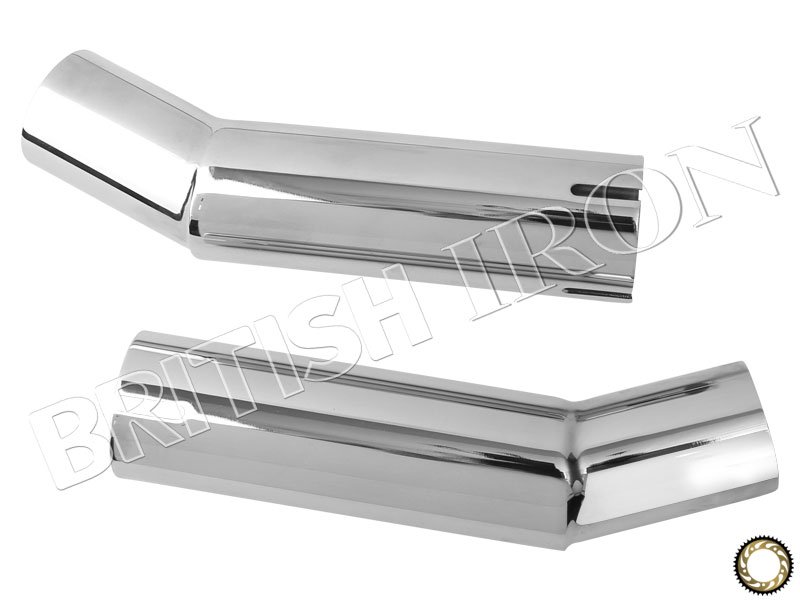 Suitable for Most Modern Café Racers
Use with Burgess Type Silencers