Triumph Daytona etc Rectifier for Nippon Denso Alternator PN MBI-203448
The rectifier turns the alternator AC current into DC current.
Appropriate fitment for this rectifier includes Triumph liquid cooled 3 and 4 cylinder engines with ND alternator.
96-01 Adventurer 900

92-93 Daytona 750/1000

93-06 Daytona 900/1200, Daytona Super III

98-01 Legend TT900

94-98 Speed Triple 900 (carbs)

99-04 Speed Triple 955

05-13 Speed Triple 1050

Sprint (carbs)

95-14 Thunderbird 900

93-98 Tiger 900 (carbs)

91-98 Trident

91-04 Trophy
This turns the 3-phase AC electricity produced by the alternator into DC electricity.
Follow the instructions in the service manual. Made in Japan.
Please note: Due the nature of the product, we unfortunately do not accept returns on bearings, service tools or electrical components. Please be confident about your purchase before ordering. If you have questions, please contact us.
Triumph Daytona etc Rectifier for Nippon Denso Alternator PN MBI-203448
The Rectifier Turns the Alternator AC Current into DC Current
Appropriate Fitment for this Rectifier Include Triumph Liquid Cooled 3 And 4 Cylinder Engines With ND Alternator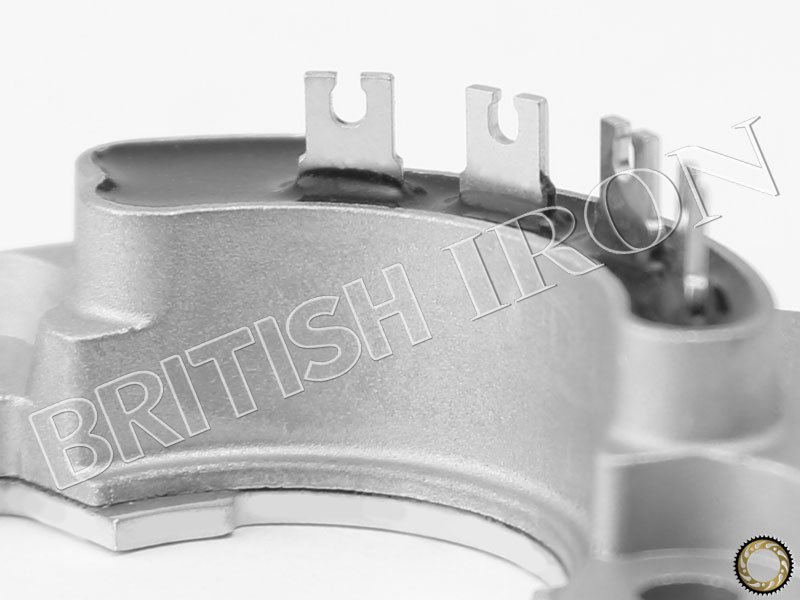 This Turns The 3-Phase AC Electricity Produced by the Alternator into DC Electricity
Follow The Instructions in The Service Manual